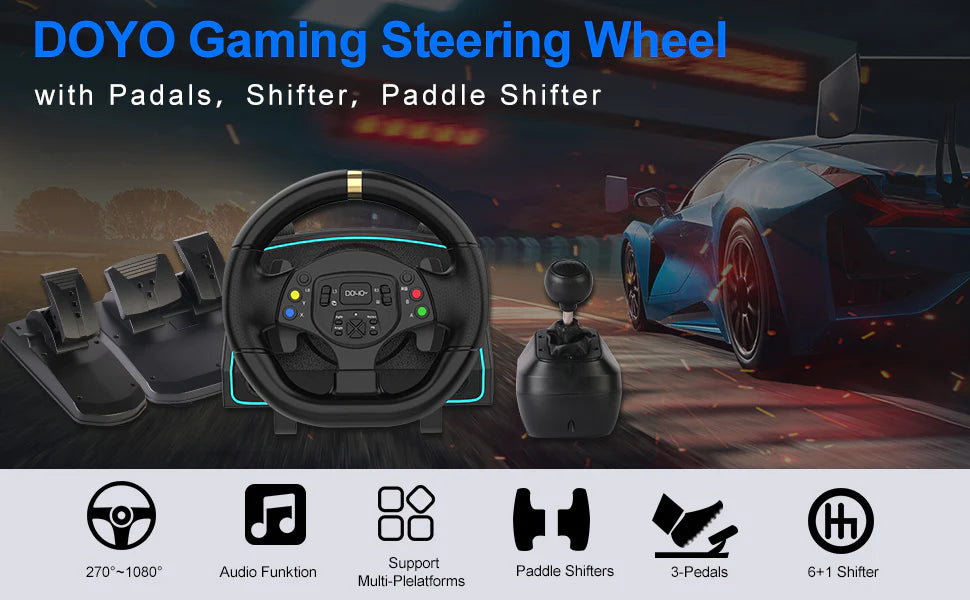 DOYO game steering wheel is soft and warm to the touch, the strength is timely and moderate, providing a more realistic twisting feeling. It basically meets the usage habits of most players.

Perfect operation buttons and rich functions: DOYO game steering wheel is designed with various function buttons, such as learning mode, game mode, sensitivity adjustment, etc. It is also equipped with a hand shifter, which can satisfy different game needs. Help players to play more strain.

Wide compatibility, applicable to a variety of games.DOYO game wheel for PC and PS4 and other platforms, support the latest car games, such as "Need for Speed", "Speed Racer", "Formula Racing" and other mainstream racing games, so that players in a variety of favorite racing games can experience the high-end sense of control.

DOYO game steering wheel adopts the structure design verified by professional players, which is durable and long-lasting. With the stable strength of the levers, all kinds of buttons and joysticks show excellent stability even after a long time of high-frequency use.

Features:

▶︎ Multi-axis Load Sensor and Array Motor

The DOYO gaming steering wheel utilizes the latest generation of load cell and array motor technology. Through the high-precision detection of twisting force and angle, together with the multi-directional feedback force generated by the array motor, the joystick provides a steering and braking feeling close to that of a real vehicle. It is more suitable for the track scene.

▶︎ professional control surface material and feel

The control surface of DOYO game wheel is made of professional game wheel material, which has been specially treated to have higher adhesion and faster return speed. The surface is also soft and warm, providing a snug and comfortable grip when in contact with the palm of your hand.

▶︎ has a wide range of accessories.

In addition to the core product, the DOYO Game Steering Wheel comes with a wide range of accessories. In addition to the core product, the DOYO Gaming Steering Wheel also comes with a wide range of accessories, including shifters, durable metal spikes, and more, to satisfy most of the personalized needs of gamers. These accessories present a refined and high-end form.

▶︎ game compatibility, support a variety of mainstream games

DOYO Game Steering Wheel supports both PC and PS4 platforms, and is 100% compatible with most of the mainstream racing games, such as Need for Speed series, Formula Racing series, Extreme Racing series, etc., which really helps players to play at the highest level in many of their favorite racing games.

Overall, DOYO game wheel as a new simulation racing control options, through all of the above advantages, really let players feel the real experience on the track, to realize the ultimate dream of self-driving track. I hope the above information can meet your needs, if there are any other questions, please feel free to communicate with me:service@doyo-game.com